"America's Finest City" is is the nickname of San Diego and Lori Leak is about to find out if it is true! As you know, Lori Leak is an adventurous girl and she likes to see this wide world. Traveling the globe is her favorite thing to do! Because of family vacations and her father's business trips, she can see so many new places and meet so many new people in different cultures. After Paris, France and Copenhagen, Denmark, now San Diego, California in the United States of America is next on the list!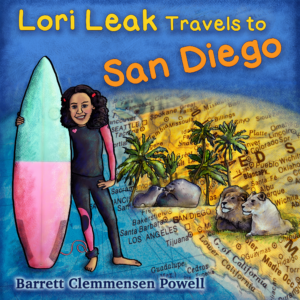 Illustrator Kristen Palana is again bringing Lori Leak to life in glorious rich color. You will see her in beautiful settings at the San Diego Zoo Safari Park, surfing at the beach, celebrating Passover, visiting the seal pool in the city's La Jolla neighborhood and more!
If you haven't gotten you  copy of the two books telling about those adventures, you can purchase them  in the Shop. If you would like to be sure to get your copy of Lori Leak Travels to San Diego, pre-order it now at a discount. The release date is June 10, 2021.
$17.97  (USA) / $24.97 (Int'l)
(prices include shipping and handling)